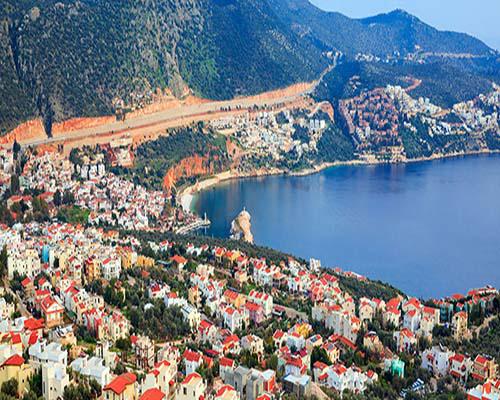 Kalkan Villa Rental Options
Kalkan was formerly a Greek village called Kalamaki until the early 19th century. It still retains some of the original Greek buildings, including a church (which is now a mosque). These buildings in the old part of town nestled amongst their Turkish counterparts. Both old and modern buildings tumble down the steep hillside towards the sea. Their balconies strewn with bougainvillaea and jasmine overlook the cobbled maze of streets.

Until the mid-1980s the village was more or less abandoned but since then it has gradually grown to what it is today, a very popular holiday destination. Despite having expanded dramatically in the last ten years is still architecturally one of the most attractive places on the Turkish coast.
Kalkan is situated in a small shield-shaped bay on the Mediterranean coastline. In fact, the word Kalkan actually means shield in Turkish. It has a very attractive harbour and is a popular destination for yacht tourists. Private cruises, catamarans, yachts and Turkish vessels called gulets all amiably jostle for mooring space.

The waters around Kalkan are popular with fishermen, divers and snorkellers, water sports enthusiasts and swimmers alike. The bay abounds with natural freshwater springs which makes diving and snorkelling fascinating but they also produce the strange phenomenon of making the water surface colder than the deeper water.