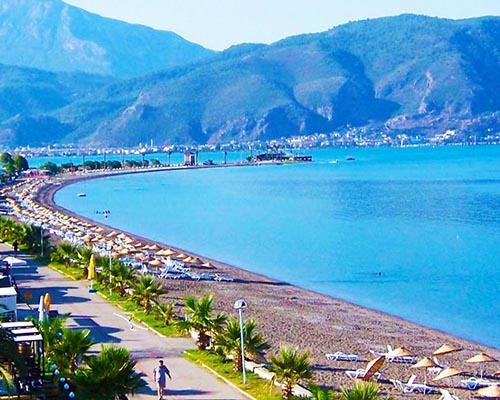 Luxury Villa and Holiday Rental in Calis Fethiye
Calis beach is one of the most beautiful beaches of Fethiye, which can be reached by a 10-minute land journey to Fethiye Bay. Calis is home to many restaurants, hotels and souvenir shops with its kilometres of beach. is a must-see in Fethiye with its lively beach and magnificent atmosphere. Calis Beach also includes many rental villas for the comfort of holidaymakers; It is an ideal place especially for families with children because it offers a quiet and reliable holiday opportunity.
Calis Beach is the first place that comes to mind when it comes to the beach in Fethiye. In this sense, when you are overwhelmed by the heat or the crowds on the beach, you can throw yourself into nature and enjoy the peace of being in nature for a few hours. Calis is a must-visit place, especially for sunset. There are many daily rental villas and cottage alternatives close to the beach for accommodation.
Luxury Villa and Holiday Rentals Close to Calis Beach
The most ideal option for the guests to stay around Calis Beach, which is one of the dozens of different beauties of our country's paradise corner Fethiye, is the holiday villas. The villas are located very close to the beach. Therefore, people can reach the beach in a short period of time at any time; sea, sand and sun.
One of the most important features of the rental villa and cottage varieties in Calis is that they have a pool. These pools are regularly maintained and guests are always safe to use. Holidaymakers who have the opportunity to enjoy the pool at any time by staying in a private pool villa can also sunbathe on their sun loungers allocated for their own use.
Located in Calis, which has the second best sunset in the world, the interior of the villas has been designed in a very modern way. The luxury holiday villas, which contain all the elements that may need, make people feel at home. You can spend a peaceful and comfortable holiday with your family for years by choosing a rental villa and a cottage within walking distance of Calis Beach.