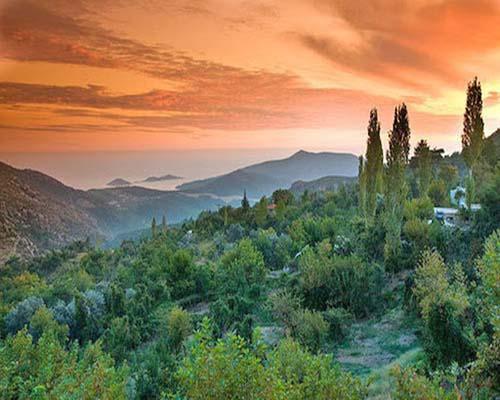 About Kalkan Islamlar Village
Islamlar for which Turkey is among the most beautiful resort towns and at the same time at the world-famous dive centre is a village of Kas.islamlar village, which is located in a high position, has cool oxygen and cool climate. Olive trees are among the vineyards, preferred by those who want to spend a holiday in a quiet town with nature.
In the Islamlar region, guests do not have accommodation problems. In the section reserved for the guests, there are rental villas ideally developed for all tastes and desires. Villas with gardens and private pools offer a wonderful holiday to the guests with their unique nature view. The old name of Islamlar village is Greek Bodamya. In this episode, Greek people lived in the past and then Greeks and Turks lived together.
Islamlar village is 8 kilometres from Kalkan, 37 kilometres from Kaş and 195 kilometres from Antalya. Guests of the holiday rental villa in the village have a peaceful holiday in a calm environment. Whenever they want, they cool off in the pool of the villa, sunbathe, whenever they want, they can go to Kalkan beaches and enter the sparkling sea. Holiday lovers coming to the region meet their food needs at the restaurants in the village of Islamlar.
Guests who have a unique holiday in the village of Islamlar, many activities such as hiking, photo safari, diving and water sports, boat tour, paragliding, jeep safari are held in Kaş and Kalkan. The guests, who maintain a peaceful holiday at the warmth of your home, are entertained and rested when the holiday ends and the Islamlar leave the holiday villa.
How to get to Kalkan Islamlar Village?
Although Islamlar Village is located a little away from Kaş, it is not a long journey. You can reach Islamlar Village with a 37 kilometre vehicle journey from Kaş. İslamlar Village is 195 kilometres away from Antalya city centre. After reaching Kas, you need to continue on your way through the Islamlar Village Road. This road, covered by dense forests, will whisper to you what kind of secret paradise you have gone with calm winds.
Food and Drink Activities in Kakan İslamlar Village
İslamlar Village is a town that can be considered in the middle of civilization even though it is in a natural environment. There are many restaurants where you can eat in the town, which attracts attention with the help of the tourist population, which has increased in recent years. If you are vacationing in a villa for rent in Islamlar Village, you can prepare splendid meals with fresh products you can buy from the village market in your villa's private kitchen. If you want to eat from outside, you should definitely taste the different kinds of pancakes prepared with the local cheeses and herbs.
What are the places to visit in Kalkan İslamlar Village?
Islamlar Village, which attracts attention with its history as well as its nature, has a history of 300 years. This paradise geography, where there are artefacts belonging to Greek civilizations that lived in the region, is in a position where you can spend a minute without getting bored. In the village environment, there are old Greek water mills that you can access with a short walk. There are also many sarcophagi on the slopes of the mountain. There are rock-cut tombs in the section between Bezirgan Village and İslamlar Village, which you should definitely see.
Why choose Ismanlar Village Villa Rental?
Kalkan Islamlar village is the main choice of conservative families who want to spend their holidays without being disturbed in privacy and who want to have a peaceful time away from annoying looks. Thanks to villas with private pools, we ensure that our conservative families have a holiday in peace and comfort.
Moreover, we offer you all the alternatives for you to benefit from affordable prices before the season. If you wish, you can call our company and immediately get the most suitable villa, you can sail with your family on a pleasant holiday.