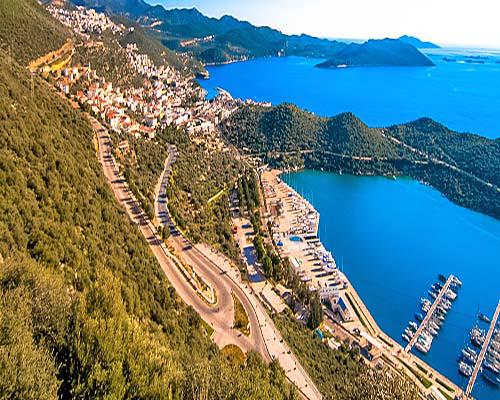 Aradığınız Kriterlerde Sonuç Bulunamadı.
Teklif Gönderin Size Uygun Villaları Sunalım.
Hemen Teklif Al
Villa for Rent in Kas
Our country has many holiday resorts that are fascinated with its natural and historical beauties. One of them is undoubtedly the Kas district of Antalya. Kas, with its unique turquoise waters, valuable endemic plants and ancient ruins, is not only popular with domestic tourists but also with foreign tourists. Increasing in popularity in recent years, this natural wonder town has not lost its specificity due to the transportation difficulties experienced until recently. There are many accommodation options for holidaymakers who want to visit Kas, which can be called the jewel of our Mediterranean coasts. However, the most ideal option for those who want to feel at home and have a luxury holiday is renting a villa. So, what are the advantages of rental villas in Kas?
Advantages of Accommodation in Kas Rental Villas
The opportunity to have a free holiday in a place where green and blue meet
Kas located in the west of Antalya; surrounded by greenery, historical beauties and world-famous beaches, is one of the most important holiday resorts of our country in terms of sea tourism. However, holidaymakers who want to visit this unique beauty resort especially in summer months cannot find accommodation in the hotels unless they have booked in advance. Holidaymakers who can find a place can be overwhelmed by the noise, crowds and hot together and cannot find what they expect from their holidays. In addition, the only area where conservative families can be free is the rooms. They cannot use the hotel's pool and other areas. However, the conservative rental villas in Kas offer holidaymakers comfortable spaces where they can be free and feel at home.
Luxury Holiday at Affordable Prices
Villa rental is not an expensive accommodation option as we thought. It is possible to make a holiday in the villa as a family or in crowded groups because of the prices almost paid for accommodation in the hotel. Holidaymakers; instead of being limited to a single room in hotels, you can have an economical and comfortable holiday experience by choosing from a variety of rental villas inKas.
Kas rental villas have all the elements that individuals may need to stay during their holidays. In this sense, holidaymakers can have a nice time in the gardens of the villas or enjoy the pool by their hearts. If you are going to prefer Kas, the natural wonder town of Antalya for your holiday, choosing a rental villa suitable for your budget; You can enjoy the privilege of staying in a large, spacious and luxurious villa.