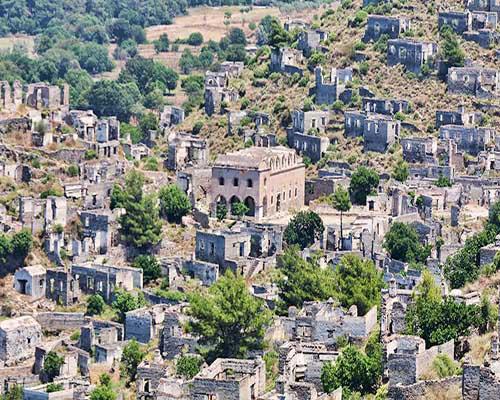 Conservative Villas with Nature View in Fethiye Kayakoy
Kayakoy is a very special Greek village with thousands of years of history. This Greek village in the province of Mugla is also very close to Fethiye, the holiday paradise of our country. For this reason, it is possible to get to other resorts in Mugla from Kayakoy in a short time. Fethiye Kayakoy is the right place for those who want to be close to historical beauties and nature. The most comfortable option for accommodation in Kayakoy, which attracts attention with its nature and history, is a rental villa.
Fethiye Kayakoy has a unique history with a history of up to 5000 years. This town is home to around 350 stone buildings and there are also many churches and historical ruins. Kayakoy attracts attention with its history and there are many rental villas for holidaymakers. If you are looking for rental villas in Fethiye, you can choose between Kayakoy villas. So, what are the villa options you can rent in Kayakoy?
Villas with Jacuzzi and Nature View
In search of a comfortable holiday, there are some elements that people want to see in their accommodation. These include jacuzzis. It is possible to find this feature, which is especially dreamed of honeymoon couples, inKayakoy villas. In these holiday villas, which also have a private pool, holidaymakers can enjoy the pool at any time, or relax in the jacuzzi in the bedrooms.
In addition, these villas have a magnificent nature view; for families or honeymoon holidays in a villa that is intertwined with nature.
Conservative Villas with Pool
Fethiye Kayakoy rental villa is among the types of villas with sheltered pool. The conservative villas for rent are located in the magnificent nature of Kayakoy and are designed to prevent the invisible pools from the outside. In this way, people can easily enjoy the pool or sunbathe during their holidays without fear of being watched by those around. You can choose from the villas in Fethiye, you can choose the villas located in Kayakoy, you can experience the privilege of making a comfortable and luxurious holiday intertwined with nature.